BOLT SEAL BS-40 Your logo
HIGH QUALITY BOLT SEAL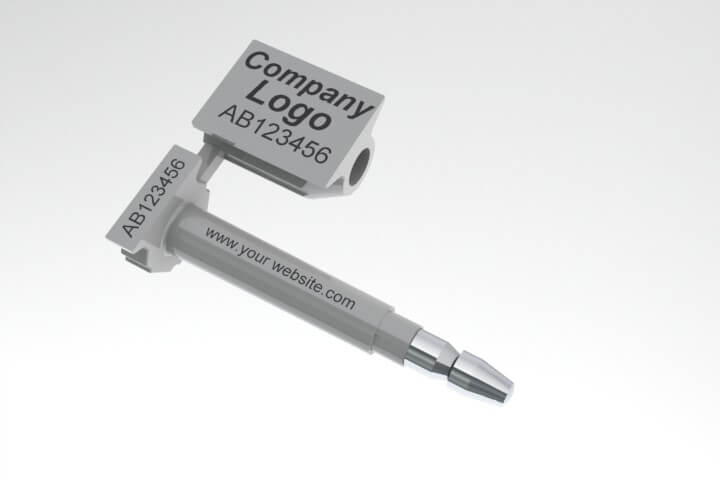 SPECIFICATIONS
Galvanized low carbon steel, wrapped with ABS
Total length: 94mm / 3.70" (closed) 
Steel bolt Diameter: 8mm / 0.31"
Breaking strength: 1,700 kg / 3747.86 lbs
Color: white, yellow, fluor red, orange, green, blue
APPLICATION:
The BS-40 bolt seal is a high quality bolt seal. It is used in intermodal containers, and is ISO / PAS 17712 and CTPAT compliant.
BS-40 is specifically designed for custom prints of logos on bolt seals. The large print area ensures all designs fit.
Features:
Uniquely numbered, the serial number is applied to both pin and barrel.
Number registration is easy to achieve because the seals are packaged in order of number.
When closed, the seal is completely encapsulated in ABS plastic; any attempt at tampering will result in obvious destruction.
Anti-spin construction to ensure the locked seal cannot be rotated out.
The number on the seal is always clearly visible.
Large print area.
Technical Specifications:
Galvanized low carbon steel, wrapped with ABS
Total length: 94mm / 3.70" (closed)
Steel bolt Diameter: 8mm / 0.31"
Breaking Strength: 1,700kg / 3747.86 lbs
Color: white, yellow, blue, orange, green 
Packaging
Packing quantity: 200 pcs/box
Gross weight: 20 kg / 44 lbs
Packing size: 40*30*13.5cm / 15.7″*11.8″*5.3″
Delivery
Orders under 5,000 pieces, shipped within one business day.
Orders over 5,000 seals, delivery FOB Shanghai, worldwide door to door delivery.
Custom solutions
Printing: Company logo
Number: sequential number / QR / barcode
Colours: Available on request
Minimum order
pieces
minimum order amount
Orders under 1,000 pieces are subject to a first time only €25 design fee.
Graphics
Use this form to submit your logo.